Are healthcare organizations doing all they can to protect patients' privacy and civil rights? According to the Office for Civil Rights (OCR) records, the answer is no.
In 2022, Americans lodged more than 51,000 complaints against healthcare organizations in the past year. This marks a concerning 69 percent rise over five years. Approximately two-thirds of those complaints were related to possible health information privacy or security violations.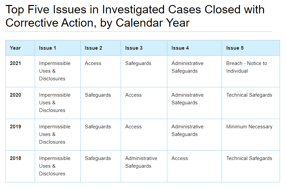 As of December 31, 2022, the OCR has resolved 307,399 complaint cases since it began investigating violations in 2009. According to available data, impermissible uses and disclosures have held steady as the top issue investigated with corrective action since 2018. In 2021, the problems that took second, third, fourth, and fifth place were: records access, safeguards, administrative safeguards, and patient breach notice.


Are Health Organizations Struggling to Secure Their Data?
One would think that with 13 years of cautionary examples, healthcare organizations and their business associates would have driven those numbers down, not up. But in the past several years, the healthcare industry has sustained considerable turbulence: Technology continues to outdo itself at an increasingly rapid pace; personal and medical health-related tracking devices and apps have exploded into use; increasing numbers of medical records and information are being digitized; cybercriminals are relentless evolving their techniques and ramping up attack frequency; and legislation remains in constant mutation as policies-makers try to keep up with technology and patient needs.
What Can Healthcare Organizations Do to Secure Patient Information?
Prevention should always be the priority. It's far more challenging to retrieve patient data and repair reputation than to prevent compromise. Once data is leaked, or a patient's privacy has been violated, it often cannot be undone.
Top 6 Methods to Strengthen Compliance and Security
Healthcare organizations can use a variety of methods to boost their prevention efforts, such as risk assessments and vulnerability scanning. Let's take a look at the recommended top six.
Conduct

Security Risk Assessments




For most healthcare organizations and their business associates, security risk assessments (SRAs) are mandatory for compliance or certification. HIPAA requires these assessments because they help identify weaknesses before they can be exploited.

IBM studies

discovered that

15% of breaches

are initiated through cloud misconfiguration

and another

13% by third-party software weaknesses—just two of the many vulnerabilities

SRAs can detect. Almost any vulnerability is a potential breach: weak passwords, unpatched software, lenient permissions, etc.




Perform

Vulnerability Scanning


These scans go deeper than SRAs to thoroughly dive into an organization's networks, operating systems, and processes to find digital weak spots. Once a scan unveils weaknesses, then the associated components and root cause can be identified. The vulnerabilities can then be prioritized in order of severity for a solutions plan.



Run

Penetration Tests


Typically, organizations conduct

pen tests

after vulnerability scans. This proactive probe

simulates a cyberattack on an organization's computer systems

, investigating if and how a hacker could exploit vulnerabilities to breach your network.



Stay Abreast of Changing Legislation


Healthcare compliance rules and legislation are constantly morphing. One minor change can be the difference between compliance and violation. Keep up to date with regulations and address them within your organization immediately if they affect you.



Consult HIPAA Compliance Professionals


One way to ensure your organization is aligned with current legislation and within compliance is to seek compliance experts. Compliance professionals possess in-depth knowledge of HIPAA and other healthcare-related regulations and may detect issues that your busy organization missed. It's their job to know when changes occur and how to address them.



Use Automated Software


Compliance-related automation can help your organization keep up with repetitive tasks, assist with vital regulatory issues, track active incidents and requests, and create audit logs.
To learn more about strengthening your compliance status and avoid becoming an OCR statistic, visit CompliancePro Solutions.